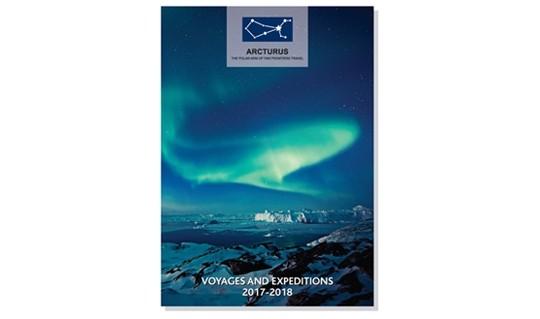 We've just published our 2017-2018 brochure for Arcturus, the polar arm of Far Frontiers Travel.
Inside you'll find some exciting new land-based trips in Spitsbergen and Iceland as well as an even greater range of Arctic and Antarctic voyages. Since late bookings are still popular, we've included winter 2016-17 Antarctic voyages as well as dates for the 2017-18 season.
Our expertise in tailor-making itineraries means that we can also advise on how you can extend your voyage to build an exciting grand finale into your trip. And if you, or a member of your family, have a past connection with any of the places we visit we love to make it possible for clients to share experiences, old diaries and photographs of past expeditions or voyages – we have even been known to get the ship to make an unscheduled visit.
The brochure gives a taste of our journeys for the months ahead and you'll find more detail here on the website. We also have excellent trip dossiers for all our voyages and expeditions, so do call if you are interested in a particular area. As our regular clients know, we are always ready and willing to discuss any aspect of your plans.