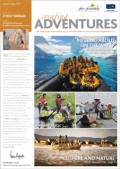 Download May 2013 Newsletter
We've got everything you could wish for in our May 2013 newsletter.  New on the tourist map is Kashmir, paradise on earth. Fiona's just returned from Myanmar with endless suggestions for exploring off the beaten track and a fascinating trip report.  We've some wonderful cruises on the Chindwin, Irrawaddy and Mekong rivers, as well as beautiful boutique hotels in Peru and Chile at Lake Titicaca, in Lima, in the Atacama Desert and at Torres del Paine National Park.  We have also discovered some wonderful tea bungalows in Tamil Nadu, perfect for a relaxing and nostalgic stay in glorious colonial style.
There's lots too for polar travellers including the chance to see both brown and polar bears in one trip in Chukotka, ribbon seals in the Sea of Okhotsk and the Northern Lights in Scoresby Sund.  And, for a dramatic end to the year, why not consider our amazing fly/sail offer for a White Christmas in Antarctica?