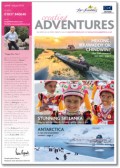 Download January 2018 Newsletter
Our January 2018 newsletter is a feast for the eyes! We're featuring Sri Lanka, where I took an extensive tour last September – I can really recommend it as a place that both inspires and relaxes, and there are some gorgeous places to stay. You'll also find information on Georgia, the former Soviet republic – still very unvisited, so now's the time to get ahead of the game!
On the polar front we're introducing you to some stunning new ships and itineraries, along with some favourite trips such as the Ross Sea to see the huts of Shackleton and Scott in the Antarctic or the amazing Northwest Passage in the High Arctic. For a really monumental trip why not combine Antarctica with an extended stay in New Zealand? There's some incomparable walking to be done, not to mention staying in the wine country or wild bush.
There's just so much to be excited about for 2018 – happy New Year to everyone and do call me if you'd like to chat through any travel ideas! And do let me know if you would like to receive our regular newsletters and are not already doing so.