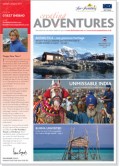 Download January 2017 Newsletter
Go beyond the obvious sights in Australia, take one of our cruises through the fjords of Southern Patagonia, encounter Berbers from your exotic Sahara Desert sand camp or explore one of India's many national wildlife parks – there are over 100 to choose from!  Meet the extraordinary sea gypsies in Burma's Mergui Archipelago, stay in an out-of-this-world hotel in Sri Lanka or experience the Silk Road mysteries of Central Asia.  We've also some amazing last minute Antarctic voyage offers if you hurry, and there's still time to book an Arctic adventure for this summer.
I'm off later in January to visit Japan.  A number of clients have expressed a desire to explore this intriguing corner of the world and I'm keen to offer this exciting destination.  There'll be a trip report in our Spring newsletter, but do call me if you are keen to know more before then.