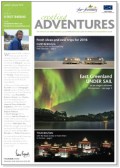 Download January 2016 Newsletter
A very Happy New Year to everyone!  Our January newsletter is hot off the press and inside you'll find tempting new itineraries to inspire your holiday plans.  We're delighted to be adding Turkey to our portfolio of destinations – so have a look at the special flyer with my report on our recent family break in Istanbul and suggestions for just a few of the marvels that await in all corners of this fascinating country.
Also new for 2016 are a unique in-depth trip to Bhutan with the Royal Society of Asian Affairs in October, sailing on an elegant schooner in East Greenland this summer and the chance to camp in quirky luxury in Bolivia next Christmas – and there's more! For our polar fans, don't miss the outstanding Arctic and Antarctic adventures we have put together with eminent experts and explorers Seb Coulthard, Ann Daniels and Robert Clancy.
I'm off to Ecuador and the Galapagos in February and look forward to sharing my adventures with you shortly afterwards.  In the meantime I hope you enjoy the newsletter – and please pick up the phone if you would like to chat through any ideas!