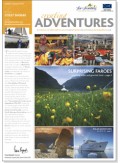 Download January 2015 Newsletter
There's been lots happening both on the Far Frontiers Travel and Arcturus fronts recently.  We've been busy scouting out some amazing trips and memorable places to stay to inspire you for your 2015 getaway.  So, whether you are looking for an Arctic experience this coming summer (some great last minute offers by the way), new horizons in South America, Eastern Turkey, Indochina, Australia or New Zealand, or an epic adventure to the Antarctic for 2015-16 do get in touch.
Be dazzled by the Northern Lights in Spitsbergen, sail in ultimate luxury around islands in Myanmar, celebrate the King's birthday in Bhutan, give the kids an action packed holiday in Oman, follow in the footsteps of Shackleton, Scott or Franklin, get behind the scenes at St Petersburg's Hermitage – or, for the ultimate escape, let us tailor you an unforgettable riding and overland tour of Mongolia.  It's all in our latest newsletter!