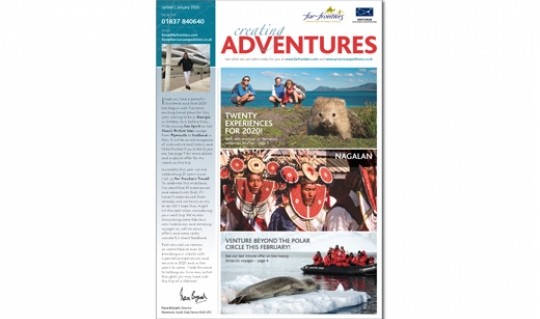 Happy 2020 to all! In our January newsletter I've featured 20 of my top travel experiences and adventures that I hope might hit the spot when considering your next trip. We're also showcasing some intriguing new hideaways and amazing voyages both north and south as well as news, offers and some really wonderful client feedback.
Incredibly we are celebrating 20 years since I set up Far Frontiers Travel and you can rest assured we are as committed as ever to providing our clients with superlative experiences and service in the years to come.
I'm celebrating our anniversary with some exciting travel plans, aiming to be in Georgia in September and, before then, joining Sea Spirit's voyage from Plymouth to Edinburgh around the British Isles, 9-20 May 2020.  There's a special offer for my clients so do get in touch if you'd like to come too – it will be an extravaganza of wild nature and history!
Enjoy the read and I look forward to helping you turn any initial thoughts you may have into the trip of a lifetime!
Download January 2020 Newsletter