As the smallest country in the Andes, Ecuador packs vibrant indigenous culture, well-preserved colonial architecture, other-worldly volcanic landscapes and dense rainforest into an area not much larger than the United Kingdom. Here too you will see plenty of evidence of its rich agriculture including plantations of bananas, coffee, cacao, sugar, palm oil, palm hearts, rice, roses and corn.
Almost always mentioned in the same breath with Ecuador are The Galapagos Islands: Located some 1,000km west of the mainland, they are still one of the best places in the world to view unique and unusual wildlife at close quarters. The Galapagos are home to nearly 9,000 species, many nearly unchanged since prehistoric times, and a cruise among the islands will provide opportunities to see rare species such as the giant tortoise, the blue-footed booby, the waved albatross and marine iguanas — so unaccustomed to human presence that they are completely unphased. Follow in the footsteps of Charles Darwin and the living proof of evolution will surprise and delight you.
"A single glance at the landscape was sufficient to show me how widely different it was from anything I had ever beheld."
Charles Darwin, The Voyage of the Beagle, 12 December 1832

Itineraries relating to South America

Trip Reports for South America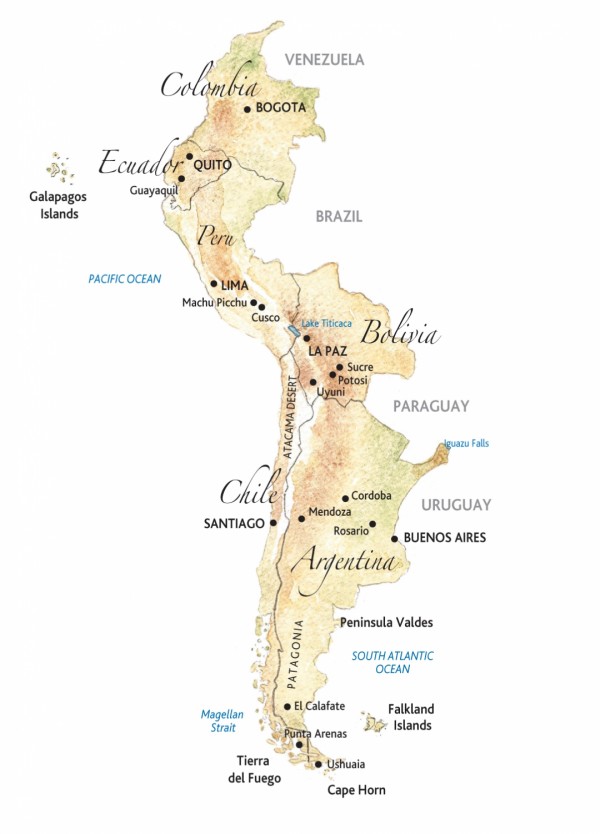 Fiona's travel tips
FOR THE LESS ACTIVE: If you don't want to trek the whole Inca Trail, take the train and hop off early to enjoy a wonderful day's walk instead.
MY FAVOURITE PLACE: (Once I had got over a slight vertigo moment), sitting atop Wayna Picchu watching the cloud drift over the ruins of Machu Picchu spread out below me.
DON'T MISS: Superb camping at the edge of the Salar de Uyuni. The walk-in tents, though not en-suite, each have a built in stove and the view from the loo is to die for.
TOP TIP: See Lake Titicaca and its floating reedbed islands from the Bolivian side — it's much less visited than from Peru.
BEST TIME TO GO:
Argentina: October to April
Bolivia: April to September
Chile: October to April
Ecuador: October to June
Galapagos: year-round
Peru: April to October   
JOURNEY TIME:
Argentina: 16 hours (indirect)
Bolivia: 18 hours (indirect)
Chile: 18 hours (indirect)
Ecuador: 14½ hours indirect
Galapagos: 14½ hours indirect
Peru: 14½ hours (indirect)
Receive our E-News
Fill in your details to subscribe to our regular Dispatches E-newsletter
Our Brochure
View a PDF or order a copy of our Brochure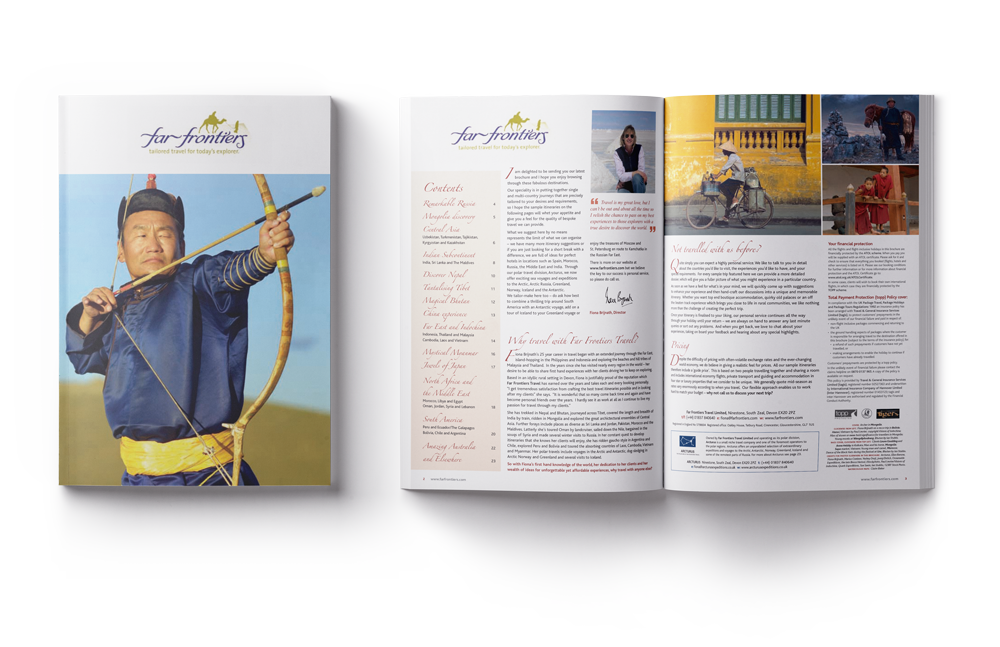 VIEW OR ORDER BROCHURE HERE