I will begin this in the comfort of my Turkish Airlines seat en route from Bishkek to Istanbul.
First things first: a big 'thank you ' to you for the first class arrangements for my travels.
They really have been excellent.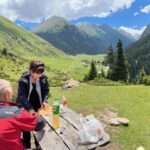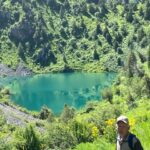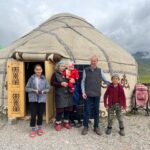 For me, the combination of Uzbekistan and Kyrgyzstan was perfect. The former essentially for the buildings and their historical context. The latter for the breathtaking scenery. And both for their peoples and their distinctive ways of life.
Travelling solo to unfamiliar areas could be an intimidating prospect but you have always found me brilliant guides. They – and the drivers on whom one's life depends- are critical to a visit's success for me. They are one's eyes and ears; they provide layers of information and perspectives that would otherwise be totally missed.
I cannot speak too highly both of Djamshid (Uzbekistan) and Olga (Kyrgyzstan). Their attention to the programme, to my preferences ( so well relayed by you) and to my well-being was first class. As I said in my previous email, Djamshid was always ready to go the extra mile. That applied equally to Olga.
Two small but for me memorable examples. I told Djamshid that I had a grandson whose hobby was wood carving and asked if he could put me in touch with an Uzbek woodcarver. With considerable effort this was achieved: I had a tremendous session with a master craftsman.
In Kyrgyzstan Olga really entered into the spirit of my liking for markets. She found out that there was to be an animal market somewhere on one of our journeys and led me expertly round skittish horses, bellowing bulls etc and to conversations with saddle makers and the like. Great fun.
She was also an absolute fount of knowledge on Soviet and post Soviet Kyrgyzstan about which we had many fascinating conversations.
In both cases we  'clicked' – just as well given the time we were together.
One more obvious general point: I guess many travellers, certainly of my vintage, would say the programme was too intensive and physically rigorous. An 18 kms  mountain hike certainly tested me. And so did the mid40s temperatures in the first parts of my programme. But it's horses for courses. And this particular course suited me very well.
And of course travelling solo allowed me the wonderful freedom to stop to see what I wanted to see (a great half an hour with a nomadic family in Kyrgyz summer pastures) and to pass by what I did not.
Points of detail are really quite few and random:
– you rightly warned me about the potential challenges of getting through Uzbek Customs and the importance of filling in currency declarations for the arrival and departure. As it turned out entry and exit formalities could scarcely have been simpler. Bags were scanned but no officials at either end asked for any documentation other than my passport.
– and while on the subject of officials I was never hassled by them at any stage on my visits.
– I also found it so refreshing to be in Countries where people even in the tourist hot spots never harried me. Chance encounters were friendliness itself (invited into a corner bakery with Dlamshid to see breadmaking in process when all I had expected was to buy a single flatbread!).
– At no time did I feel under any threat to my personal security. On the contrary.
While there is a formal requirement to carry a passport at all times I simply kept a copy in my pocket when out and about. To me that was a lesser risk than losing my passport while gazing at a minaret!
– I did  find service and standards in hotels very variable. The old Soviet norms of 'service' cropped up quite often- more in some of the larger hotels ( the Malika chain comes to mind, while their hotels were certainly well located).
–   the  best all round hotels were the family run ones, notably the Hotel Komil in Bukhara and The Green Yard in Karakol. The Homestay at Sary Cheleck and the guesthouse at Jyrgalan were great experiences, thoroughly to be recommended for those prepared to learn and experience at the expense of a little luxury. Listening to the Owners' life stories would alone have made the stays rewarding.
– the only hotel that really should not feature in a discriminating Company's programme is the Hotel Picnic – which it certainly was not! The building was shoddy and none too clean. The eating and eating facilities uninspiring to say the least.  The service was execrable.
Yet I greatly enjoyed two days of walking in the surrounding hills. If any other client should choose to do something similar I would recommend they do what my mountain guide, Slava, and driver, Suren, sensibly did which was to return to Tashkent for the intervening night. It's only a little over an hour's drive. There may also, of course, be more suitable hotels, for example in the nearby ' resort ' of Chatkal.
– food was not the problem I thought it might be for a non red meat eater. Most restaurants and other eateries I went to had options with chicken or fish. Or pure veggie. Hygiene, though , is still hit and miss.  Both  guides were very good at steering me away from as many potential culinary hazards as possible, another mark of their great worth!
– I am sure it was the right decision both to fly direct to Urgench, not Tashkent, and then to use trains as much as possible.  All I heard confirmed your comment about the unattractiveness ( not to mention the potential safety hazards) of long car journeys between the principal tourist destinations in Uzbekistan. The trains worked well throughout though the levels of comfort varied considerably. The journeys proved a good way of seeing the countryside -particularly the one through the fascinating Fergana Valley.
– one minor but I think important point: if guides are to accompany travellers on the trains it makes so much more sense for them to do so in the same compartment/ class to allow the dialogue to continue during the journey. It happened where I was travelling from Khiva and from Samarkand but not, sadly, during the long journey to Andijon. The extra cost would be minimal compared with the total cost of the travels.
– entering Kyrgyzstan via Osh perfectly suited my travel plans. But I think any client should be warned that  with what looks like very slow progress in the building of a new Kyrgyz  border complex it is a pretty wearing  and unpredictably long challenge to get through . There were several hundred of us jostling to be admitted through a single doorway manned by a none too friendly guard. I am not unused to such situations and soon found rapport with my fellow strugglers in the rubble and the baking sun.  But you have determinedly to elbow forward, keeping a firm grip on your bag in the process!
– timing of the programme in the year is not easy.  Some people would have found the heat too suffocating. I experienced 45C in Uzbekistan (and only 3C over a Pass in  Kyrgyzstan). Perhaps, ideally, temperature wise, I would have started a couple of weeks or so earlier, reducing the likelihood of such high temperatures in the desert areas while avoiding too snowy/wet conditions in the higher areas of Kyrgyzstan. As it was,  the timing worked perfectly well for me, Djamshid , for example, sensibly concentrating visits in a longish morning, leaving me to retire in the afternoon- and do some retracing of steps after supper.
-You were right about the need to have plenty of exchangeable cash with one. There were lots of ATMs but remarkably few seemed to have any money in them! I used a combination of banks and money exchange stalls to get local currency for $bills.  I did succeed in using my Visa card in hotels on a couple of occasions.
There may be other things I should have mentioned but these are what come to mind for now.
Was it good value for money ? Indeed it was!
David Carter
Highlights of Uzbekistan and Kyrgyzstan
A Tailor Made itinerary
June 2022